2019.05.15 Wednesday
FOR OVERSEA
[POGO77 NEW RELEASE] SHITTY HISTORY OF POGO77 (BOOK) 2nd EDITION FOR WHOLE WORLD
POGO77 releases "SHITTY HISTORY OF POGO77" on 5/25/2019.
If you want to buy, give me message. POGO77 accepts PAYPAL.
noriyasu@pogo77.com
TITLE : SHITTY HISTORY OF POGO77
LABEL : POGO77 RECORDS
FORMAT : BOOK
DATE : 5/25/2019
PRICE:1000YEN + 800YEN(POSTAGE) / USD9 + USD7(POSTAGE) FOR WHOLE WORLD

A4/148 PAGES/JAPANESE/MANY MANY PICTURES/HANDWRITING- NUMBERS ON FRONT COVER
1.POGO77 RELEASE INTRODUCTION
INTRODUCE EVERY TITLES FROM TOM AND BOOT BOYS - PUNKS ARE ALRIGHT(POGO1) TO THE TITS - 1ST ALBUM(POGO99) , POGO77 DISTRO AND KILLED BY POGO77.
2.PICTURES
SO MANY PICTURES(HUNDREDS) OF POGO PUNK,Oi!,CRUST AND PUNK ROCK BANDS AROUND POGO77 IN MIDDLES OF 90'S
3.RESOURCES
MANY RESOURCES LIKE FLYERS,ADVERTISEMENTS FOR POGO77 AND ETC
4.TALK TO POGO77'S FRIENDS in JAPANESE + SOME PHOTOS
MICK SICK(BLACK AND WHITE) / MIYOSHI+TAKA-44(TOM AND BOOT BOYS) / KENTARO(THE ERECTiONS.) / KYOSUKE(THE TITS) / RICKY(EXTINCT GOVERNMENT) / MICHIAKI(THE LAST SURVIVORS)+ABE(LIFE)
5,ADVERTISEMENTS
FREE ADVERTISEMENTS OF PUNK STORES AND LABELS THAT HAD A LONG RELATIONSHIP WITH POGO77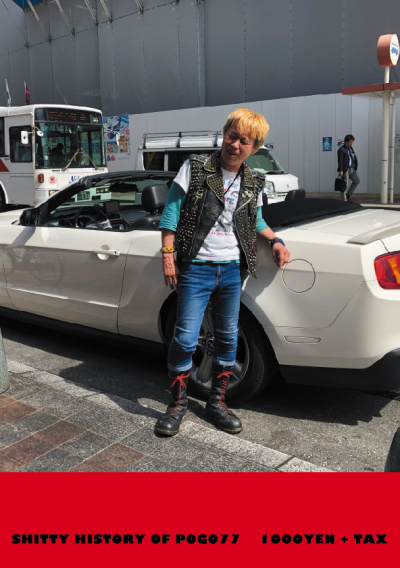 FAST AND LOUD!
PUNK AND PROUD!