2018.09.26 Wednesday
お疲れ様です、白菜と鶏肉の煮物を作りながら、焼酎飲みながら、ディストロ作業してました、ばついち再婚子持46歳今村です。
同時にやるのが得意。でも穴がいっぱい 笑 では 2つ目の記事行きますわ
【VOX POPULIディストロ:2018年10月8日】 ULTRA - DISCOGRAPHY CD (VOX POPULI)
ご予約はこちら。ULTRA日本ツアーもよろしくね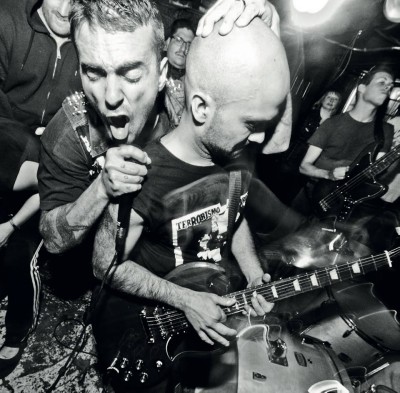 またやるのか!YU!君・・・あんたって人は。否が応でも、YU!君がサポートってなると「どんなバンド?」って気になる。あたなもいますよね?この人の好きなバンド、気になるなみたいな。さて。2016年の音源紹介を見ると。
インタビュー等も載ってる日本ツアー特設ホームページも必見!
https://ultrajapantour2018.wordpress.com/
彼らの音がここで聴けるぞ!(過去作品)
https://ultrajapantour2018.wordpress.com/sounds/
Young Barcelona band made up of half ABSURDO and half ANARQUIA VERTICAL members. Their debut EP is pure fire, idealistic hardcore with venom and punch. Sonically clashing the golden years of Spanish or Italian hardcore with early NYHC and even Midwest hardcore while lyrically carrying the torch of anarchist Barcelona bands.
僕個人はこれ読む前にNY HARDCOREが基本じゃんって思ったんで、あーって思いました。でも言葉がSpanishなんでちょっと違うけど。そして2作目。
Ultra are a raging anarchist Barcelona band made up of half Absurdo and half Anarquia Vertical members. Their second EP is a 7 tracker full of short, intense and pissed off fireballs. It's chaotic but well played and recorded and hints at the Golden age of European hardcore mixed with Heresy and Crucifix.
こっちが僕の好みだな。1作目の影響化の音楽からより過去に遡ってまさにUSA OLD SCHOOL HARDCORE PUNK。80年代初期のガキがとりあえずギター持ちましたみたいな、ベリーショートチューン!畳みかける軽いノリのリフであっというまに終わる。素敵だ。初期OLD SCHOOL/初期STRAIGHT EDGE/X CLAIM/初期SSD/初期DYSあたりに、スパニッシュのっけてた感じですね(RAW度は例に挙げたほうが高いと思う)。上記2枚と、もうすぐ発売の新作LP(まだ聴いてませんが、2枚目が好みなので期待は高まりますねー)がまとめて入ってるし、値段高くないので、アタックしても良いと思いますねー。では。以下、レーベルインフォとツアーインフォです。合わせてどーぞ!!
レーベルインフォ:
ウルトラ級アナーコ・ハードコア パンクバンド"ULTRA"がスペイン・バルセロナから遂に2018年10月に来日!80's EURO/US HARDCORE PUNKを消化/昇華させ、1分前後の曲に凝縮させた強烈なハードコア パンクの連打から逃れる術はない!現行パンク名門LA VIDA ES UN MUSから出されたEP出された二枚のEPと、10月発売の新作LPをまるごと収録した全24曲入り来日記念盤!!
【VOX POPULIディストロ:2018年10月8日】 ULTRA - DISCOGRAPHY CD (VOX POPULI)
ご予約はこちら。ULTRA日本ツアーもよろしくね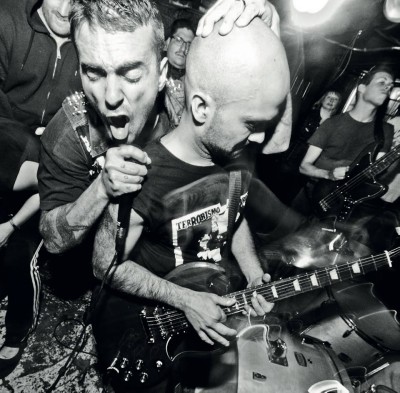 そして・・・ULTRAの日本ツアーが10月4日から始まる!え!!すぐじゃん!!ツアー日程はこちらです。
ツアーインフォ:
---------------------
ULTRA JAPAN TOUR
---------------------
10月4日(木) TOKYO@中野 MOONSTEP
w/ ENCROACHED, VOCO PROTESTA, MALIMPLIKI
DJ So the Youth
open 18:30 / start 19:30
tickets day only 2,000 yen (+ 1 drink)
10月5日(金) NAGOYA@ 鶴舞 BAR RIPPLE
w/ MILK, KILLERPASS, NICFIT
start 20:00
Ticket 2,000 yen (incl. 1 drink)
10月6日(土) MATSUMOTO@松本 Give Me Little More
w/ SKIZOPHRENIA, ADRENALIN, KANKI
open 18:00 / start 19:00
charge 2,000 yen
10月7日(日) OSAKA@桜川 0g [zero-gauge]
w/ LAST SENTENCE, SKIZOPHRENIA, ANANAS, RIGID
open 18:30 / start 19:00
charge 2,000 yen (+1 drink)
10月8日(月・祝) HIROSHIMA@広島 SPYDER
w/ CANARIA, AXE HELVETE, NO RULES, SINOMENOSI
open 18:00 / start 18:30
charge 2,000 yen (+1 drink 500 yen)
10月9日(火) FUKUOKA@福岡 KIETH FLACK
w/ NEMESIS, STEP LIGHTLY, END OF POLLUTION
open 19:00 / start 19:30
charge 1,500 yen (+1 drink)
10月10日(水) TSUYAMA@津山 K2
w/ SLAVE SYSTEM DECONTROL, SKIZOPHRENIA
start 21:00
charge 1,500 yen
10月11日(木) YOKKAICHI@四日市 VORTEX
w/ POVLACION, SKIZOPHRENIA
open 19:30 / start 20:00
charge 2,000 yen
10月12日(金) TOKYO@西荻窪 PITBAR
w/ CRUCIAL SECTION, ENDLESS SWARM (Scotland, UK), SUPER STRUCTURE
open 19:00 / start 20:00
tickets adv 2,000 yen / door 2,500 yen (no drink charge)
10月13日(土) TOKYO@中野 MOONSTEP
w/ M.A.Z.E., CARRE, IMPARA, SKITKLASS, FIXED
open 18:00 / start 18:30
tickets adv 2300 yen (+ 1 drink) / day 3000 yen (+ 1 drink)