2017.07.13 Thursday
お疲れ様です、まぁ既に知ってる人も多々いるとおもいますが、POGO77で彼らのことを書かないわけにはいかないので、ばついち再婚子持44歳今村です。
WHO KILLED SPIKEY JACKET? (USA) + THE ERECTiONS. JAPAN TOUR 最終2Days SHOW
2017年7月16日17日 新宿アンチノック
2days 07/16+17 POGO77RECORDS PRESENTS OLD PUNKS激闘市街戦"WHO KILLED SPIKEY JACKET? JAPAN TOUR"
ライブ詳細は上記へ↑
7/16日〜17日 東京 ANTIKNOCKは、POGO77でも前売りを扱いますので、よろしくお願いします。
メール:noriyasu@pogo77.com
・・・・・・・
下にTHE CASUALTIES ファンページ(FACEBOOK)からコピペした記事を貼りました。ジョージはもうツアーに行かないと決断した、そして、決まってるツアーは、David Rodriguez(Starving Wolves and Krum Bums)がボーカルをとって決行するとある。ジョージがバンドを辞めたとは書いてないけど、辞めたんだろう(か?)。ツアー行かないってことはそうなんだろうが・・・。
Attention Casualties Army!! After 27 years of performing with the band, Jorge has chosen that the touring life is no longer for him.With that said, The Casualties will carry on. As anyone who follows us knows, the name The Casualties is stronger then any one member. The songs written in basements throughout New York City shall continue to ring loud. We will continue our commitment to the Casualties Army! We will tour and put forward new anthems for many more years to come. When we said "it's a f*cking way of life" back in the beginning, we meant it.
Our longtime friend, David Rodriguez from Starving Wolves and Krum Bums, will be handling vocals on all confirmed shows!
European tour dates:
Aug. 6 Blackpool UK @ Rebellion
Aug. 9 Nottingham UK @ The Maze
Aug. 13 London, UK @ Underworld
Aug. 15 Warsaw, PL @ Poglos
Aug. 16 Zlotow PL @ Generator
Aug. 17 Nowy Targ PL @ Piwnca u Winiarskich
Aug. 18 Vyskov, CZ @ Pod Parou
Aug. 19 Volyné, CZ @ Summer Punk Party
Aug. 20 Graz, AT @ Explosiv
Aug. 21 Tannheim-Egelsee, DE @ Schwarzer Adler
Aug. 22 Mannheim, DE @ Sommerbühne 7er Club
Aug. 23 Erfurt, DE @ From Hell
Aug. 24 Niedergörsdorf, DE@ Spirit Festival
North American dates supporting GBH:
Aug. 26 San Bernadino CA @ It's Not Dead San Manuel Amph.
Aug. 27 San Diego CA @ Casbah
Aug. 28 Flagstaff @ Green Room*
Aug. 29 Phoenix AZ @ Rebel Lounge
Aug. 31 Austin TX @ Mohawk
Sep. 01 Houston TX @ Scout Bar
Sep. 02 Dallas TX @ Three Links
Sep. 03 San Antonio TX @ Korova*
Sep. 05 Atlanta GA @ Masquerade Hell
Sep. 06 Durham, NC @ Motorco
Sep. 08 Philadelphia PA @ Voltage Lounge
Sep. 09 New York NY @ Gramercy
Sep. 10 Boston MA @ Brighton Music Hall
Sep. 12 Buffalo, NY @ The Waiting Room
Sep. 13 Pittsburgh PA @ Rex Theater
Sep. 14 Cleveland, OH @ Grog Shop
Sep. 17 Indianapolis, IN @ The Hi. Fi
Sep. 19 St. Louis MO @ Fubar
Sep. 20 Kansas City @ Riot Room
Sep. 21 Omaha NE @ Lookout Lounge*
Sep. 22 Denver CO @ Gothic Theater
Sep. 23 Salt Lake City UT @ Metro Music Hall
Sep. 25 Spokane WA @ The Pin*
Sep. 26 Seattle WA @ The Crocodile
* = THE CASUALTIES only
90年代 THE DISCOCKS/TOM AND BOOT BOYSでアメリカツアーを一緒に周ったり、日本ツアーも4回?5回?ほどPOGO77で企画したり(1度目はTHE DISCOCKS/PETER氏)、とてもお世話になった。2月〜3月あたりに彼らから日本ツアーをやりたいってことで久しぶりにジョージと連絡とってたんだけど・・・。そかー。まぁ・・・しゃーないな。本当にお疲れ様でした!
懐かし企画のポスター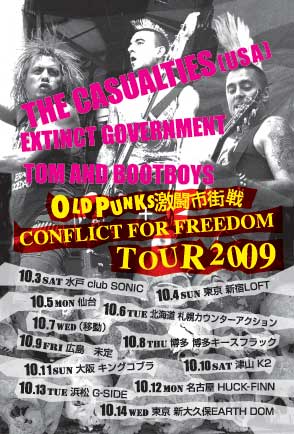 僕がボストン住んでた頃の動画がアップされてたんで。思い出と共に。
0:40あたりに 僕とルームメイトだったカミヒロ君が映ってます。懐かしな。この頃はまだTHE CASUALTIESブレイク直前の頃だね。ボストンで見たときは、お客さんまだ100人位だったかな。
FAST AND LOUD!
PUNK AND PROUD!
[CM]
WHO KILLED SPIKEY JACKET? (USA) + THE ERECTiONS. JAPAN TOUR 最終2Days SHOW
2017年7月16日17日 新宿アンチノック
2days 07/16+17 POGO77RECORDS PRESENTS OLD PUNKS激闘市街戦"WHO KILLED SPIKEY JACKET? JAPAN TOUR"
ライブ詳細は上記へ↑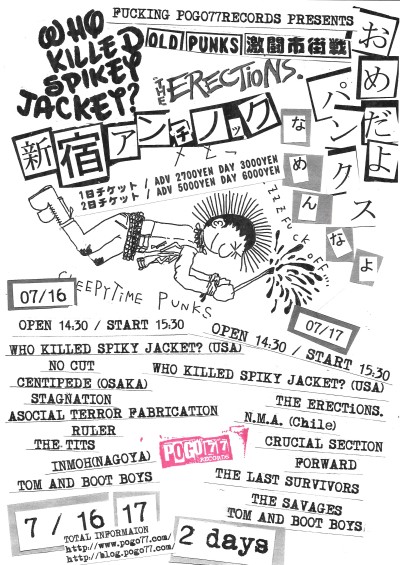 WHO KILLED SPIKEY JACKET? / SLEEPYTIME PUNKS 7" (POGO85)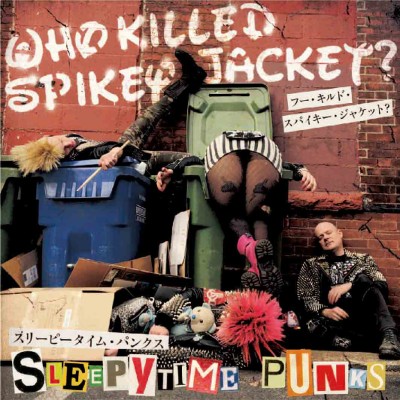 TOM AND BOOT BOYS / PUNKS ARE RIPPED OFF 7" (POGO86)