2017.05.05 Friday
おはようございます、今日から4日間子守でございます、ばついち再婚子持44歳今村です。
近所の公園で自転車の練習でもしようかしら?苦笑
【新譜紹介】THE CLEANERS / WE ARE THE CLEANERS (CD)でございます。POGO77RECORDSにも近日ディストロで入荷予定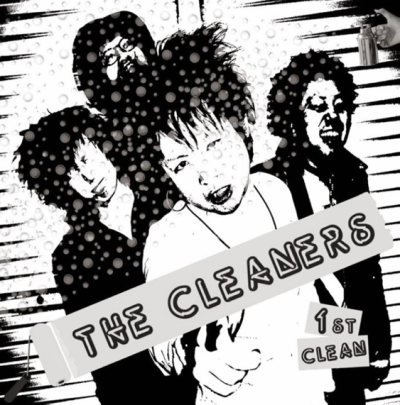 ボーカルは現在ドラムとしてTHE LAST SURVIVORSで活動してるヒデノリ氏。(最初写真見て、お〜いい若者が出てきたな!と思ったら・・・古株だった 笑)
以下 レーベルインフォ
THE CLEANERS 遂に始動!!
1st CDが明後日5/5(金)"こどもの日"から発売
"diskunion各店舗&オンライン""高円寺BASE"等で購入できます!(ジョジョに置いてもらう場所を増やしてイキマス)とのこと
バンド: THE CLEANERS
タイトル:WE ARE THE CLEANERS
価格:500円(税抜)
Up To Date Rock'n'Roll SHOCK!! from Tokyo concrete jungle!
メンバー遍歴なんて関係ねぇ、今此処にある衝撃で昇天させてやるぜってな具合でビビッドにカラフルに、ネオンライトが眩しく光る都会の喧騒を駆け抜ける暴走?妄想?狂騒?ROCK YOU!ピュアなまでの日本語詞で彩られ、華々しくも儚い電撃バップ!フザケタ浮世に閃光を突き刺す1st CLEAN、Are you ready?
"SO (Hardcore Survives)"
楽しみでございます。F.I.Nとは音変わってるのかな?
では、良い連休を〜 先日の深夜のラーメンでさようなら〜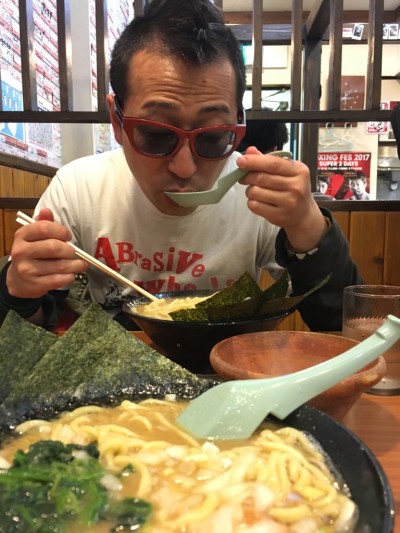 笑
FAST AND LOUD!
PUNK AND PROUD!
[CM]
次回ライブは、こちら。前売りご希望の方はメールお願いします。
noriyasu@pogo77.com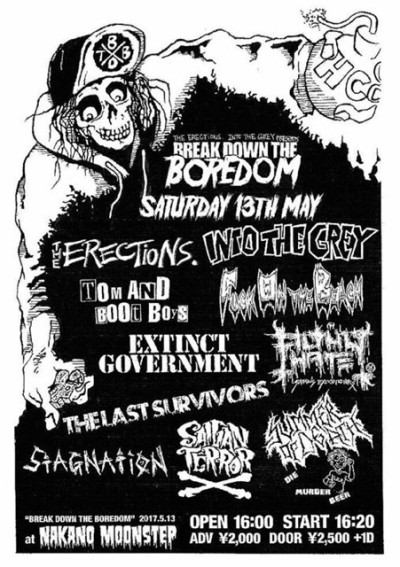 INTO THE GREY/THE ERECTiONS.企画「BREAK DOWN THE BOREDOM!vol.1」
5/13 土曜日 中野MOONSTEP
OPEN 16:00/SART 16:20
ADV 2000円/DOOR 2500円 +1D
SUMMER OF DEATH
TOM AND BOOT BOYS
SAIGAN TERROR
STAGNATION
FILTHY HATE
THE LAST SURVIVORS
FUCK ON THE BEACH
THE ERECTiONS.
EXTINCT GOVERNMENT
INTO THE GREY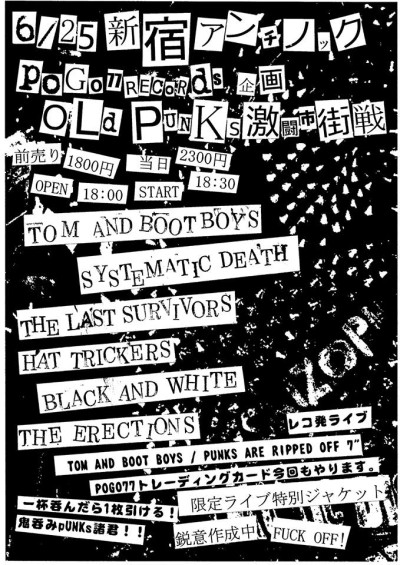 6月25日 新宿アンチノック TOM AND BOOT BOYS NEW7"レコ発ライブ[OLD PUNKS 激闘市街戦]
POGO77RECORDS企画 [OLD PUNKS 激闘市街戦]
TOM AND BOOT BOYS
SYSTEMATIC DEATH
THE LAST SURVIVORS
HAT TRICKERS
BLACK AND WHITE
THE ERECTiONS.
・TOM AND BOOT BOYS 会場限定無料配布テープ
・TOM AND BOOT BOYS 新作ライブ会場限定ジャケット7"発売
・POGO77RECORDS PUNKSトレーディングカード配布(ドリンク1杯で1枚引ける!)
・入場者全員へ特性POGO77キーホルダープレゼント
まだ早いけど、上記ライブの受付も以下で軽くはじめます
POGO77直 noriyasu@pogo77.com